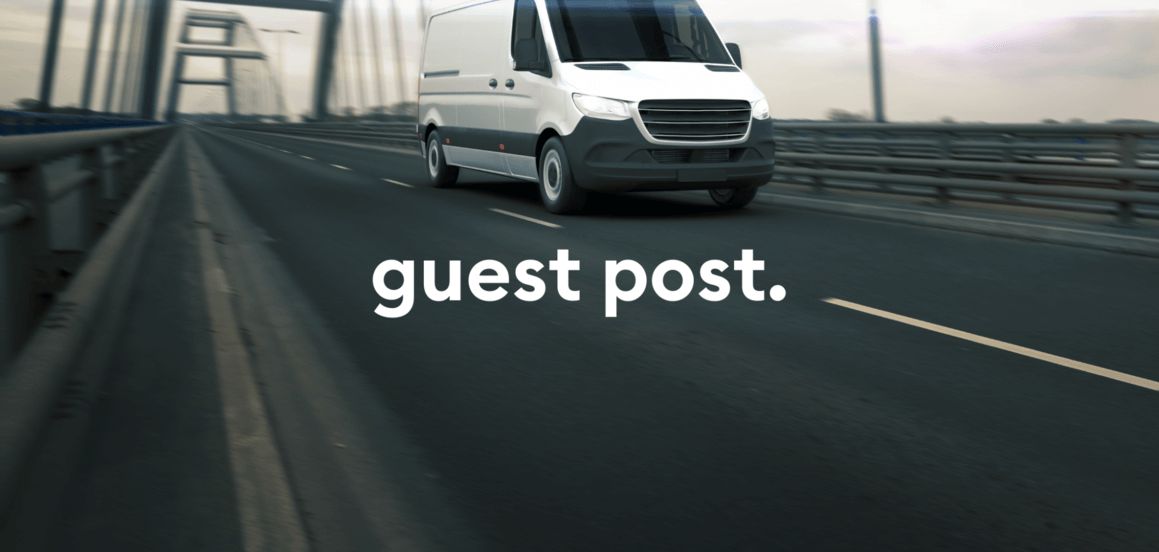 Imagine baking a decadent and intricate five-layer sheet cake without adding any sugar to the batter. You figure you can just add some sugar somehow down the road. Perhaps with the perfect application of the correct technique, you might be able to make up for the lack of sugar. It's a longshot at best and will certainly add tons of unnecessary work. Not ideal, right?
Now imagine going through the trouble of opening a service business (i.e. salon, repair shop, consultant, pest control) without implementing needed software. Human error will run rampant throughout all your processes. Fortunately, service businesses are more forgiving than sugarless cakes; you'll have more success fixing archaic business processes with software than making a delicious sugarless cake.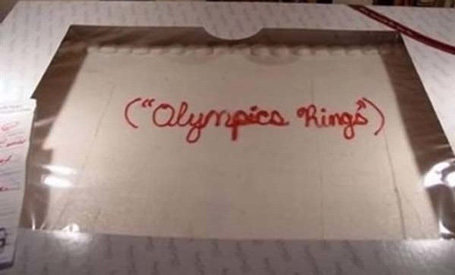 Cake or not, human error always lurks around every process (via Buzzfeed)
At Software Advice, we have many conversations with salon and field service business owners every day. By referencing this information, we'll look at some of the top-requested software features and capabilities your service business needs to have.
Keep in mind the importance of these features will vary depending on the size and type of your service business. Still, they're definitely valuable for most service companies.
Along with the features, we highlight some immediate and more long-term, sustainable ROI resulting from service software and its many helpful features.
Make Making Contact A Breeze
First on the list is a core capability that all service businesses should leverage: customer and contact management.
Customer management is a core component for building any sort of sustainable customer loyalty. It consists of a database that collects and stores valuable customer information like:
Contact info
Prior contact details
Purchase/work order history
Armed with these key details, as well as other random bits of information that are recorded, you can create a highly-personalized experience for your customers. This will help build an ongoing customer relationship, hopefully leading to many years of continued business.
The contact component of this feature is innately closely tied to customer information. You can leverage these valuable customer insights to better engage with current, past, and future customers in your communications.
The example we use in our must-have salon software features article is the story of Jane and John. If Jane comes into your salon at least once a month and spends $80, she's more valuable a customer than John, who maybe comes in a couple times a year for a basic haircut.
Customer management software will help you pinpoint these differences and identify your more financially valuable customers.
Once they're identified, you can leverage any contact management features to engage with your valuable customers and drive them to:
Come back to your business more often
Spend more on each visit
Refer you to family/friends
A great way to achieve all of these objectives is to offer service deals, discounts and packages that drive a desired next action from your customers.
Math Is Hard, So Let Reports and Dashboards Do It For You
Next on our list of must-have features is reporting, data analytics and dashboards. It's amazing how many businesses operate year after year without properly setting business metrics and analyzing their performance against them. And I'm not talking about the monthly/quarterly/annual sales reports that your QuickBooks account spits out for you.
In our age of big data, you'll be hard-pressed to find a reputable service software platform that doesn't at least integrate with an analytics platform. Many offer fully-functional analytics capabilities. That's great for you because our data demonstrates that reporting and analytics can provide great benefits to service businesses.
Revenue-Boosting Benefits of Using Field Service Analytics for SMBs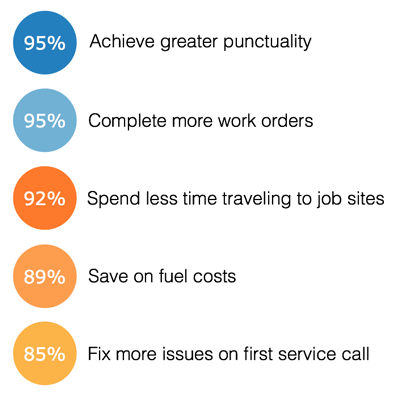 These findings were gathered from research we at Software Advice conducted on the use of telematics analytics for field service companies. You can see the direct ROI that comes from having key insights into your business and operational performance.
Since many service businesses are inherently mobile, telematics information (data on your mobile employees' whereabouts) is a valuable resource.
Contract leakage analysis can also provide important business insights. Though the term sounds silly, contract leakage happens in every industry, but especially among service businesses. It encompasses any lost jobs or missed/inaccurate transactions due to employee error. This could be anything from a simple missed fee on a final service order at your repair shop or a completely lost payment from a customer.
Leaks like this are difficult to stomach because they often result after a job has been won or even executed. You've already put the time, people, and resources into the job only to see diminished returns.
A dashboard showcasing daily expected revenue based on schedule jobs and total amount of daily transactions would be a great way to monitor at a high level the "seal" on your processes. If any inconsistencies are found, you can drill down into the data to determine which employee and job resulted in the incident.
There are plenty other valuable and actionable insights to draw from in-depth data reporting and analytics. Not only do these features automate data analysis, they provide unparalleled insights into your operations.
Appointment Scheduling Features Help Manage Your Calendar
The final feature we'll highlight is appointment management and centralized scheduling. As a service business, your calendar and daily schedule is often the central hub of your day-to-day operations. Whether you're cutting hair, spraying for pests, or performing open heart surgery, you can't get by forever on simple pen and paper schedules.
This explains why 91 percent of field service businesses we've consulted this year are requesting scheduling capabilities as a core component of their new system.

We've determined a couple core scheduling features within the context of HVAC service businesses, but these apply equally to any service business requiring extensive calendar/scheduling management:
Smart scheduling: Advanced capability to change-up schedules on the fly and have technicians automatically updated. Also categorizes employees by their individual skills and qualifications.
Text notifications: These can be formal texts between your back office and employees in the field or between your business and customers. These are great to keep customers in the loop if appointment times need to be adjusted.
While these are great, the greatest ROI on scheduling/calendar management is the increased punctuality it'll provide you and your employees with. While common sense says this is important, our data highlights just how essential it is.
Our consumer field service report uncovered that 67 percent of service customers won't rehire a service business if they're an hour late to an appointment.

Conclusion
Hopefully this provides you with an informative snapshot of just how useful formal service software can be for your business. The hard truth is that more and more of your competitors are gaining a leg up on you by adopting new business systems and revitalizing their operations. By doing the same, you can reap these benefits and remain competitive.
---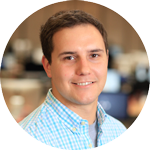 Guest Contributor:
Justin Guinn is a Market Researcher at Software Advice, a company that hosts research and reviews of salon, field service management, and HVAC service software solutions. His work has been cited in The New York Times, Forbes, The Huffington Post and TIME Magazine. His research explores the impacts of emerging software and technologies, and he has conducted primary research with both consumers and business owners to get a full picture of technology's role in these markets today.
by Setmore Appointments
Free, powerful online customer scheduling for businesses of all sizes.