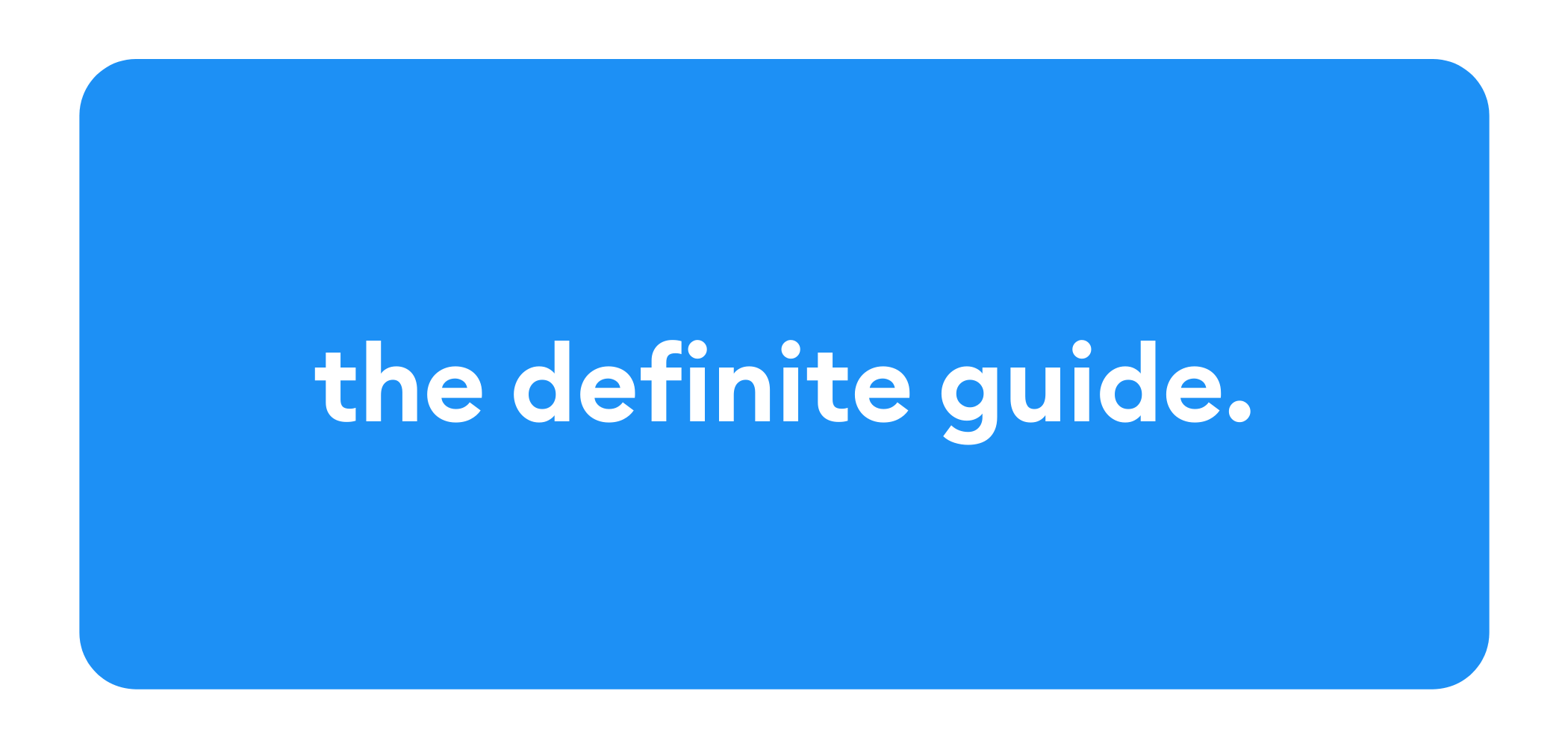 Setmore lets you book appointments with your customers online. It's as much for hair stylists who need to schedule haircuts, as it is for handymen who needs to schedule on-site home repair.
More than a business calendar
Setmore helps you organize your time better, while being the place where you manage appointments with your customers. A fully booked Setmore calendar is a reflection of your business' health.
The pieces of your Setmore account:
Calendar
Customer List
Booking Page
Notifications
Staff Profiles
We'll cover each piece in detail over the next few sections.
---
The Calendar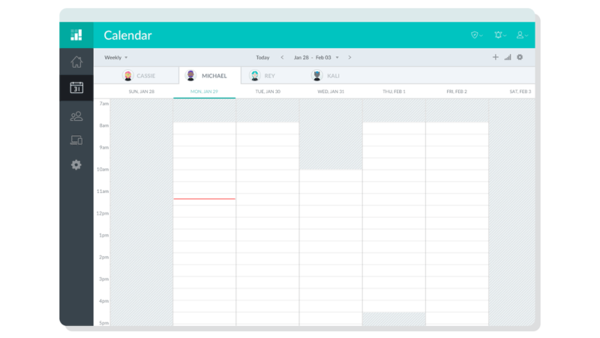 The calendar is where you'll book appointments. Your availability is represented by white space (grey space represents time outside your working hours). The floating red line indicates the current day and time.

Each staff member gets their own calendar, and you can tab through to see each one. The free version of Setmore supports up to 20 staff calendars, which you can exceed with a Premium subscription.
Booking an appointment:
Click anywhere on the calendar to start a new appointment.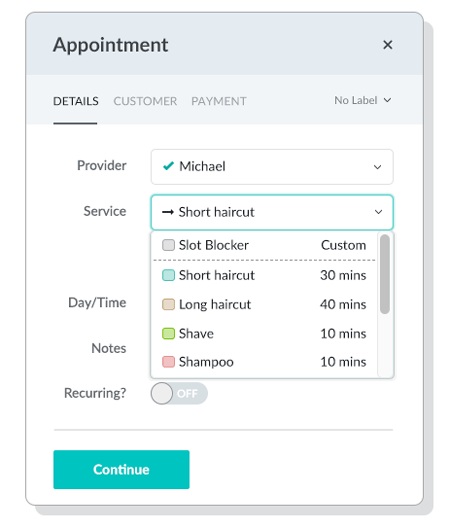 The Appointment menu includes dropdown menus for Provider, Service, Day/Time, and space for any additional notes you may have.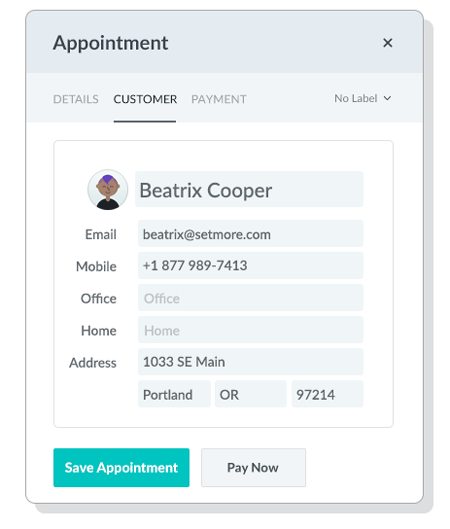 Click "Continue" to add a customer. You can either add a new customer, or search from existing customers. For existing customers, their contact information will populate automatically.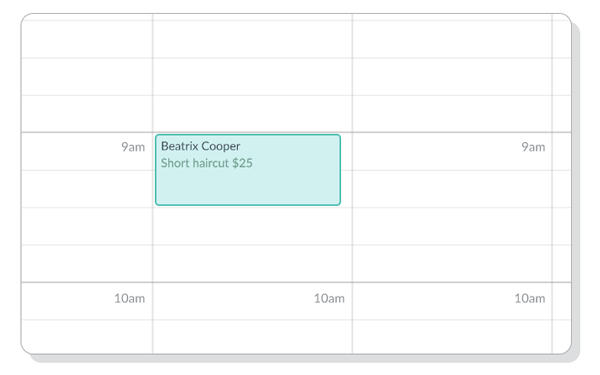 Click Save, and the appointment will show up on your calendar.
Tip: Learn more on booking classes in Setmore.  
---
Customer List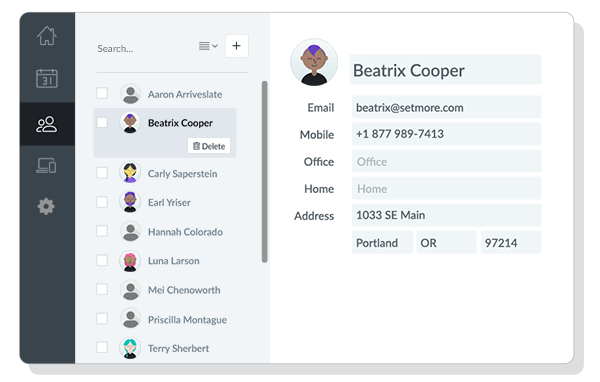 This is your digital rolodex of all your customers. It includes customer name, contact info, and appointment history by default. You can also add custom form fields to accommodate additional data.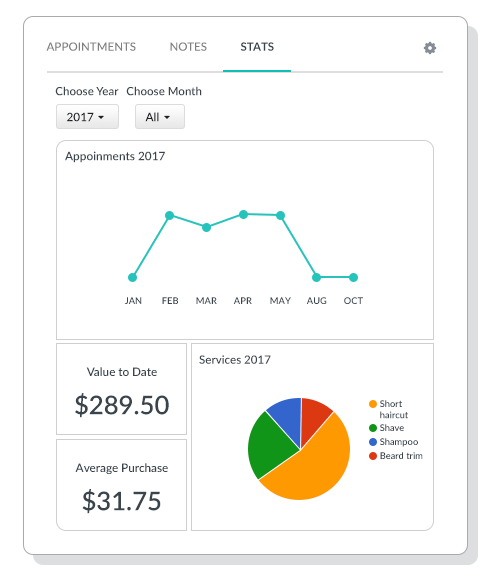 Each profile also presents some basic customer behavioral data, such as lifetime value, average purchase, and a pie chart that aggregates total services purchased over a specified time period. This gives you added insight into who your best customers are.
Tip: When you first start using Setmore, you can import a list of your existing customers with a .csv file. Find out how >
---
Booking Page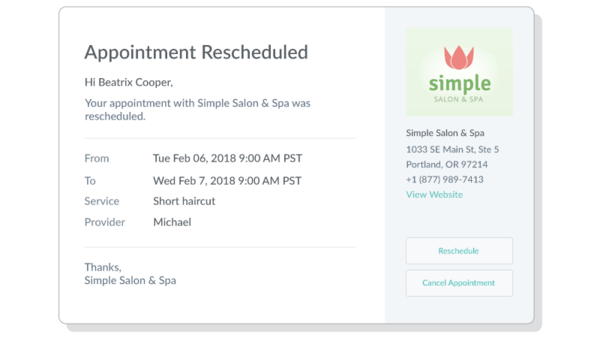 Every Setmore account comes with a free Booking Page, which is a public-facing web page that lists your services, staff, availability, and contact info. You can also upload your business logo and add a Google Maps pin.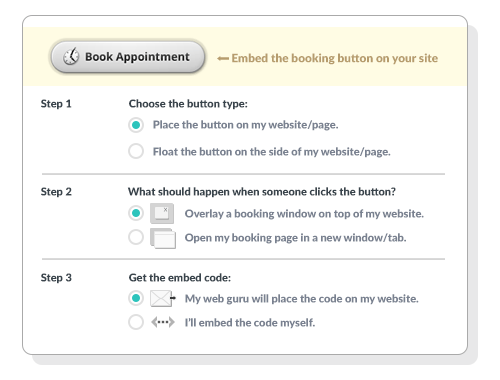 Share or embed the Booking Page on your website, and customers can self-book their next appointment without having to call you. Setmore equips you with copy-and-paste ready code, which you can insert directly into your website's HTML. We also work quite handily with a number of website builders, which are listed under the Apps & Integrations section in your Setmore account.
Tip: With Setmore Premium and the Stripe Payments integration, customers can pay upfront for their appointments from your Booking Page. Find out how >
Don't want customers to be able to self-book? No problem! Customers will only have access to your Booking Page if you share it with them online. You can also mark all your services as "Private" under Settings > Services. Do this selectively to determine which services your customers can and can't see.
---
Notifications
Emails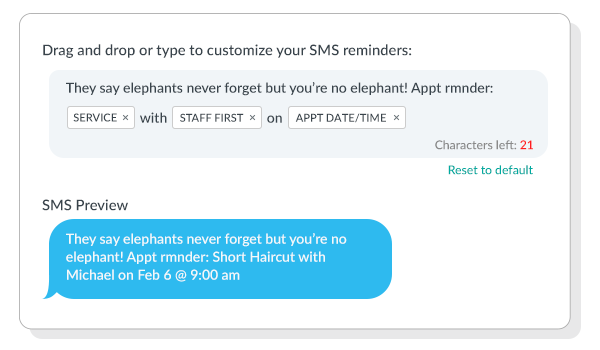 Setmore automatically sends out an email alert to both your team member and your customer for any new, rescheduled, or cancelled appointment. You can also send reminder emails to staff and customers before their next appointment.
Tip: Your customers can reschedule or cancel their own appointment from a Setmore email notification. Find out how >
Text reminders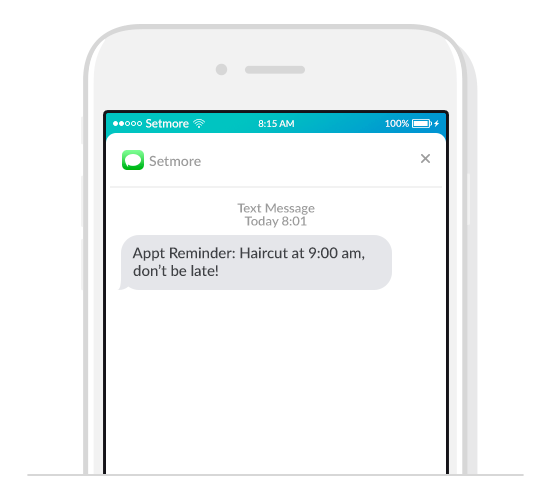 With Setmore Premium, you can also send out automated text reminders to customers. These have a much higher open rate than emails and will do a better job of reducing your no-shows.
You can also customize the body of the text message with dynamic fields, which update automatically with appointment-specific information.
---
Staff Profiles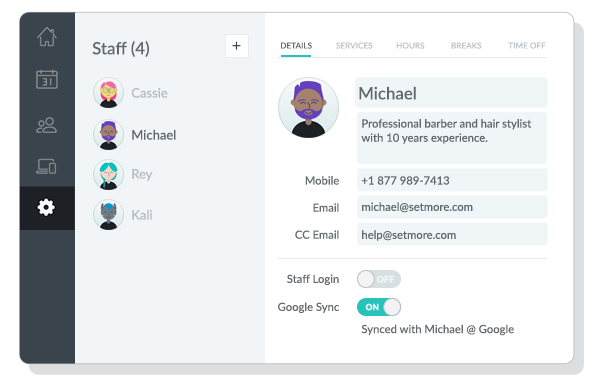 Each team member has their own staff profile, which allows you to control their availability by setting up working hours, breaks, and time off.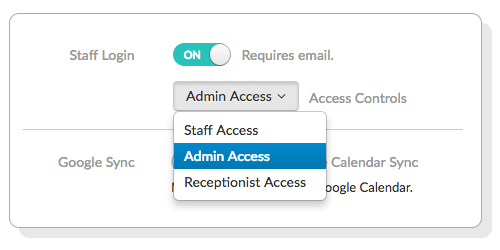 You can also enable a Staff Login for a team member, which will give them controlled access to your Setmore account with a username and password of their own choosing. With Setmore Premium, you can also enable a 2-way calendar sync between Setmore and Google Calendar or Office 365.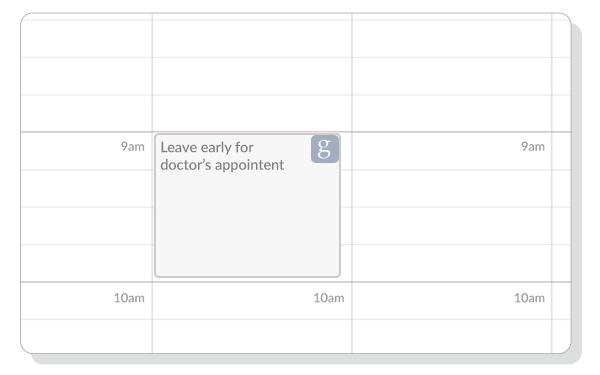 This will sync external calendar events to a staff member's calendar, and sync Setmore appointments to the external calendar, helping your team manage their time better while preventing accidental double-bookings.
---
Plans & Products
Sign up for free, then add one or more of our platform products to enhance your experience. To add a product subscription, log into your Setmore account and click the shield icon in the left navigation menu. Or log in to Setmore and click here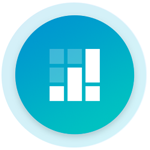 Setmore (Basic) – The default Setmore plan is free to use for as long as you want. Book unlimited appointments, send unlimited email alerts and reminders, create up to 20 staff profiles, and use the Booking Page to let customers self-book appointments online.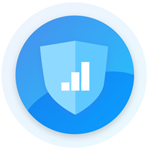 Setmore Premium – Reduce no-shows, get paid online, and manage your time better. Setmore Premium adds: text reminders, online payments, 2-way calendar sync with Google or Office 365, and recurring appointments.
---
What's next?
By now you should have a grasp of what Setmore can offer your business or organization, but this is only the beginning. Continue your journey with one of the following actions:
Thanks for reading 🙂
by Setmore Appointments
Free, powerful online customer scheduling for businesses of all sizes.