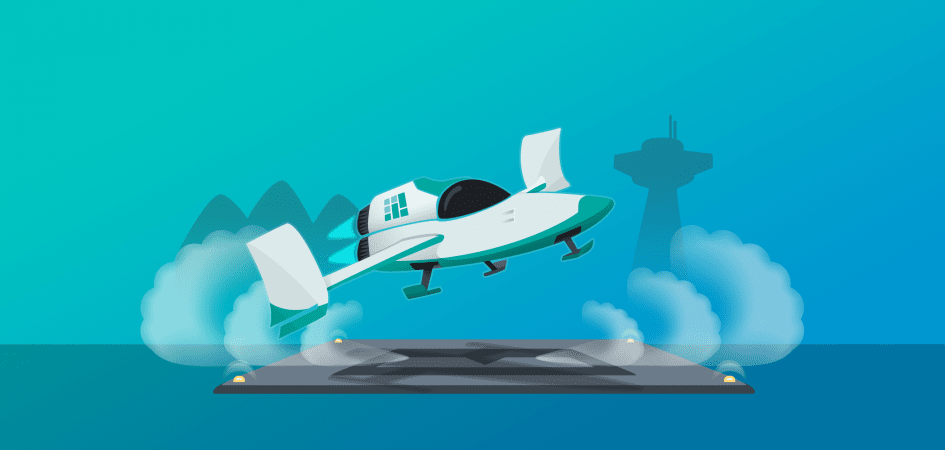 There's never been a better time to book appointments on your iPhone. We've got some huge changes landing for the Setmore iOS app this May, along with a long list of bug fixes across multiple platforms. Continue reading for all the juicy details…

---
Upgrade to Premium from your iPhone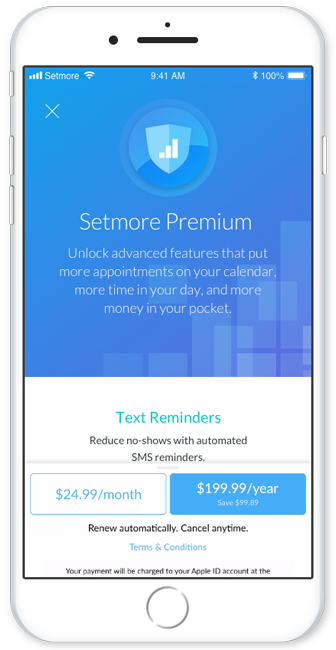 You can now upgrade to Setmore Premium directly from the Setmore iOS app. This addition brings us one step closer to a mobile platform that's just as powerful as the Setmore web app, with the added bonus of being able to run your business from anywhere.

Upgrade today to unlock advanced features, with your business growth in mind:

Manage your time better with 2-way Google and Office 365 calendar sync
Get paid from your Booking Page or Calendar with the Stripe integration
Keep customers coming back with recurring appointments
Reduce no-shows with text reminders*

*Note: Text reminders must be activated via the Setmore web app while we work on adding these menus to our mobile platform. Learn how >
Ready to upgrade?
Go to Account > Premium in the Setmore iOS app, then select your plan (monthly or yearly) and confirm your payment information. Your Premium subscription will activate instantly.


Go to Account > Premium to upgrade your Setmore account.

If you upgrade to Setmore Premium from your iPhone, you'll manage your subscription settings through your iCloud account. This means if you need to make any adjustments to your subscription, you'll do this from your iPhone's settings. How to update your billing info >

—
Staff profile changes for new accounts
To help Setmore prepare for the future, we're making some changes to the number of staff profiles you can maintain in a free Setmore account. Starting May 20, 2019, free Setmore accounts will be capped at 4 staff profiles per account, down from 20. This change will help offset some of the costs of maintaining multi-user accounts, and help balance out the value that single-user accounts get compared with multi-user accounts.
Accounts created before May 20th use the old cap
This limitation will only apply to new Setmore accounts created after May 20, 2019. For any account created before May 20, 2019, the free version of Setmore will still support up to 20 staff profiles.
Getting more than 4 staff profiles
If you have 5 or more team members in your business, you can upgrade to Setmore Premium to increase the staff profile limit to 20. Additional profiles above 20 can be added on a sliding scale basis. Click to add more profiles

—
The Squish List: bug fixes and refinements
App Stability
Fixed an issue that caused some instances of Setmore to crash on Samsung Galaxy S10 phones.
Fixed an issue that sometimes prevented updates to the reminder lead time from taking effect.
Fixed an issue that sometimes caused the last time slot of any given day to appear unavailable.
Booking Page
The Setmore Booking Page has been updated to accommodate customers using older Internet Explorer browsers.
When updating a phone number from the Customer Login, the updated number will now save as expected.
Classes
Fixed a bug that caused class sessions to appear as filled when they still had 1-2 open seats remaining.
Fixed an issue that sometimes prevented appointments from being scheduled in time slots that were previously filled by class sessions.
Design Standards
Updated the Setmore widget for Android to show consistent Setmore brand colors.
Repaired a design break in the Country dropdown menu, under Company Details.
Payments
Fixed an issue that sometimes caused transactions made in the Square Point of Sale app to not show in the Setmore app if the Setmore-Square integration was activated.
In the Appointment Details window of the Setmore web app, the Payment and Pay Now buttons will no longer become non-interactive when the check mark is removed from the "Send Reschedule Email" checkbox.
Staff Profiles
Time off is now limited to two years in duration for each instance.
Adding new staff profiles from the Setmore mobile app will no longer cause the staff order to randomize.
Fixed a bug that prevented users from deleting a staff profile from the Setmore Android app.
Fixed an issue that sometimes prevented Receptionist-level users from being able to access appointment histories from customer profiles.
Stay tuned for future updates!
Thank you for reading 🙂
---
Committed to increased transparency and more responsive community outreach, Setmore will post monthly development updates to showcase some of our work and improvements made over the past 30 days.

Have a feature request? Post a comment below or email us at help@setmore.com.
by Setmore Appointments
Free, powerful online customer scheduling for businesses of all sizes.