Sync customer details to Google Contacts
.
Automatically save new customers as contacts in your Google account.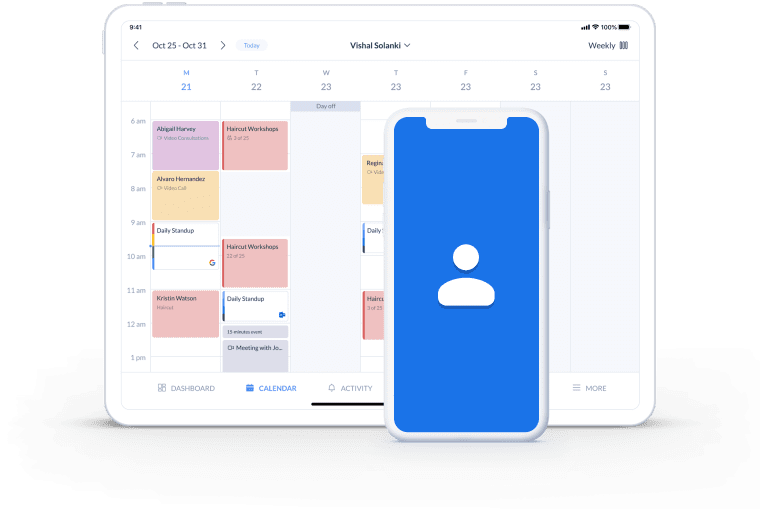 Stay in sync

Activate the Setmore-Google Contacts Zap and let customer details transfer in the background.

All the details

New customers automatically land in Google Contacts with all the data provided during booking.

Coordinated contacts 🙌

Organize, group and merge your contacts to optimize your mailing lists. Manual updates are a distant memory.
Simple contact management from the first booking
.
Ensure your contact database stays up-to-date by enabling the Setmore-Google Contacts Zap. When customer details are collected via your app or Booking Page, they instantly reflect in Google Contacts as well.
Save time by eliminating manual data transfer and make it easy to onboard new visitors to targeted email campaigns.
How to connect Setmore and Google Contacts
.
Open this template, click 'Connect Google Contacts + Setmore Appointments' and log into Zapier.
Click 'Connect a new account' to add your Setmore account details.
Click 'Connect' and log into Google Contacts.
Specify the customer details to send from Setmore to Google Contacts, e.g. name, phone number and email.
Run a test and click 'Turn on Zap' to finish.
Visit Zapier for more information about connecting Setmore and Google Contacts.
Save time with an automated scheduling solution
.
Make the magic happen, we'll make sure it happens on time.
Sign me up