Export contacts to Freshworks CRM
.
Automatically sync contacts from Setmore to Freshworks (formerly Freshsales) and stay engaged with your newest customers.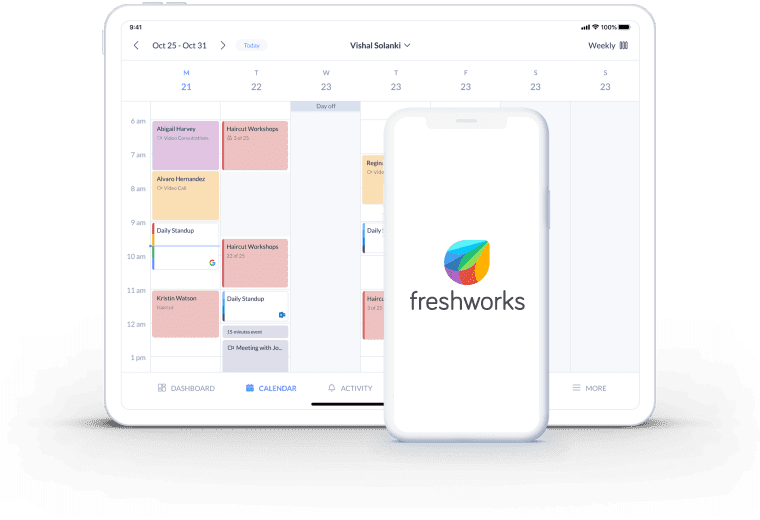 Boost your subscriber count

All customer contact details gathered through your calendar and Booking Page land straight in your Freshworks database.

Automatically export contacts

Put manual data entry in the rearview. Customer details for every new appointment transfer from Setmore to your chosen list in Freshworks.

Create a seamless email flow

The Setmore-Freshworks integration adds new customers to targeted email campaigns, helping you stay connected year-round.
Onboard leads and new contacts to your Freshworks emails 👋
Freshworks CRM provides your business with customer insights to help boost your sales. Build your contact list with every appointment set via your Booking Page and calendar, with the Setmore-Freshworks integration.
New customer contacts automatically export to Freshworks, ready to receive your tailored marketing emails.
Connect your booking system with Freshworks
.
In Setmore, navigate to Apps & Integrations > Freshworks and click 'Activate'.
Add your Freshworks API key and subdomain.
Select the Freshworks target list for your Setmore contacts to land in.
Match contact fields in Setmore with those in Freshworks. Select 'Continue' and run a test to complete the integration.
For full step-by-step instructions, read our Freshworks calendar integration guide >
Grow your contact list 24/7
.
When a customer self-books an appointment online, their details automatically export to your Freshworks account. Create a dedicated list for leads or first-time customers and automate personalized emails.
It becomes straightforward to provide pre-appointment info or keep the conversation going with timely follow-ups.
Identify your VIPs
.
Use Setmore and Freshworks to maintain connections with return customers. You can track how often each person books, their most-booked services, average spend and more. Send engaged fans targeted marketing content and incentives to keep them coming back. With the right data, customer loyalty goes through the roof.
Simple, automatic syncing
.
Centralize customer details from appointments booked across any digital channel. Whether you accept bookings via your website, Facebook, Instagram or emails, all contact data automatically exports to Freshworks. Spend less time manually transferring customer details with the Setmore-Freshworks integration.
Tools to help you fill your calendar faster
.
FAQs
.
Yes. Freshworks is the new name for Freshsales. The software operates in the same way, with in-built functionality for sales and marketing automation.

Any new customer details added to Setmore through your app's 'Contacts' tab, your online calendar and your Booking Page automatically export to Freshworks.

No. Currently, the Setmore-Freshworks integration only syncs new customer data from the time of activation.
For more information, check out our Support Center
Make the magic happen, we'll make sure it happens on time.
Sign me up