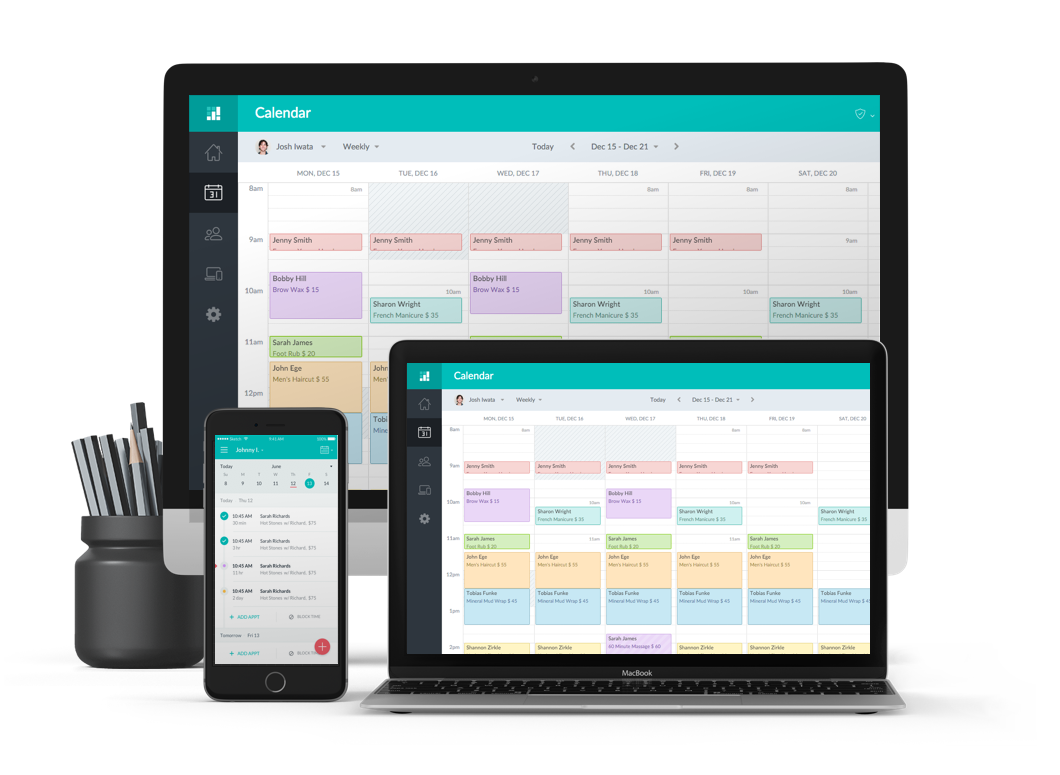 Education undoubtedly takes a supreme position in our everyday lives by extracting the raw potential, shaping it up and finally giving the world its share of smart and responsible citizens. Moreover, when education becomes the core of your business, many things ride on your shoulders and proficiency in managing time, resources and customers, becomes imperative.
Introducing Setmore, a professional online appointment scheduling software that is designed to deliver you from the agony of scheduling. Setmore is all you need to book and manage appointments, customers, students, classes, staff members schedules and a whole lot more.
Setmore helps you organize your classes, events, and more, online. People can also book sessions with you all by themselves using the booking page that comes free with every Setmore account. You can:
Keep appointments, staff and student details stored in the cloud, secured and readily available 24 * 7.
Create individual profiles for staffs and students.
Enable your students to schedule appointments with you.
Schedule appointments on the go with our free Android and iOS apps..
Create and manage multiple classes to create sessions, events and more.
An Appointment Scheduler with Class
Being an educational establishment, classes become an integral part of your education program, and your appointment scheduler should also be compatible with the idea of classes and workshops.
The Class Booking feature of Setmore enables you to organize classes for a group. Create a class, add sessions and participants, and witness the spots getting filled in next to no time.
This feature also holds prominence for PTA meetings, Workshops or any group activities you conduct. Your staffs can take advantage of the class booking feature right from the Setmore calendar and Students/parents can reserve their spots for a class on the booking page as well.
Track Appointments, Schedules and Students
Your business could, on an average receive hundreds of appointments, and as days pass by, the appointments add on to a point where you lose the count. Moreover, it is pretty tough notifying students in advance along with tracking down canceled and rescheduled appointments all at once. Setmore helps you set up automatic email and SMS notifications. It saves you time, and energy to focus on your passion than filtering out the phone numbers in your appointment diary.
With the prompt notification and reminder services embedded in Setmore, no-shows become a thing of the past. Ensure maximum productivity and minimum empty desks. You can rely on Setmore to be on top of every appointment reserved for your business.
Discover More Value Added Services
Setmore is designed to relieve you from the daunting task of appointment scheduling but over the years, it has evolved to cater to wider business requirements. With card and cash payments, secure advance payments from customers and get rid of last minute payment complexities. Bring all your staff on board in the scheduling process by creating individual logins without sharing your personal login credentials.
Do you already have a web site and wish to take appointments right from there? Embed the booking button or the booking page to your site and start accepting appointments without navigation back and forth between Setmore and your business domain. Setmore also has an array of integrations to help businesses simplify appointment scheduling and management.
Appointment diary, virtual receptionists, scheduling partner, you name it, and Setmore has all your needs covered. Come try it out today and witness the place where a simple scheduling application overcomes powerful business needs.