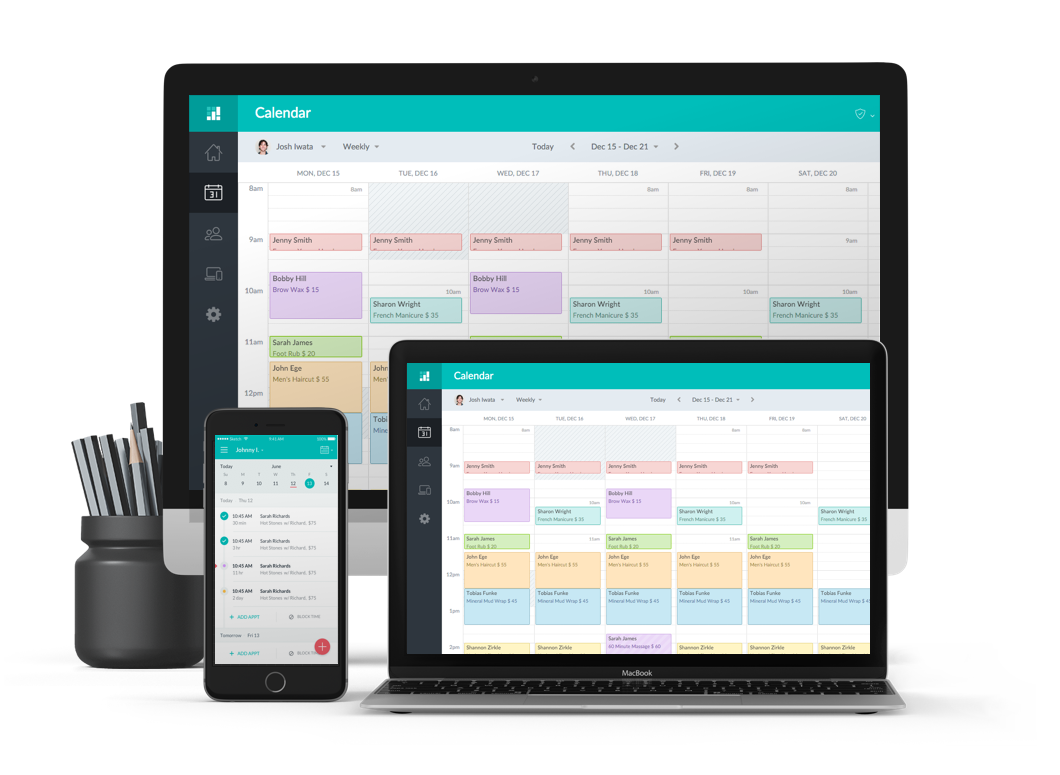 For businesses, entrepreneurs, and busy bodies who regularly schedule appointments, things are bound to get messy without a daily agenda tool or appointment planner. Setmore is for productivity-conscious users who need a combination calendar, scheduler, and online agenda that helps you organize daily to-do's and appointments. Create and track a schedule that works for you and manage your time more effectively.
Setmore integrates with Outlook, Google Calendar, and Apple Calendar to bring your personal and professional appointments under one roof. Our free mobile app syncs your online agenda across all devices, including tablets and smartphones, so you have access to your schedule anytime, anywhere. Plus, our intuitive and easy-to-use interface is perfect for getting an idea of your weekly plans at a glance.

Running your day effectively means having time on your side. Setmore goes beyond agenda planning and scheduling to help you stay organized so you can stay productive:
Master calendar view that includes all staff monthly agendas.
Flexibility to add custom labels and statuses to appointments.
Automated revenue prediction for appointments in your agenda.
Email and in-app reminder alerts for upcoming appointments.
Online agenda accessible over desktop, tablets, and smartphones.
Built-in database with exclusive profiles for staff and clients.
Up to 4 staff calendars with the free version of Setmore, up to 20 with Premium.
Discover What Digital Offers
Setmore can either replace or augment your existing pen-and-paper planner. Our cloud-based data storage allows you to maintain an extensive list of customers, clients, and contacts, and makes it easier to coordinate meetings with multiple parties. Give yourself the freedom to schedule months in advance, be purposeful with your time, and avoid overbooking yourself.
Activate Your Agenda Today
Sign up for a free account and start using Setmore as your online agenda planner for as long as you like, no credit card required. Upgrade at your own pace to Setmore Premium for advanced features such as two-way calendar sync with Google and Outlook, customer appointment SMS auto-reminders, and more.
24/7 Support Standing By
Have questions or want help setting up an account? We're here to help you with around-the-clock support. Call +1 (877) 407-3560 or email help@setmore.com, or start an instant chat from the Setmore support page at support.setmore.com.