Receive instant booking updates in Discord
.
When a new appointment is booked via Setmore, the details appear in your Discord channel.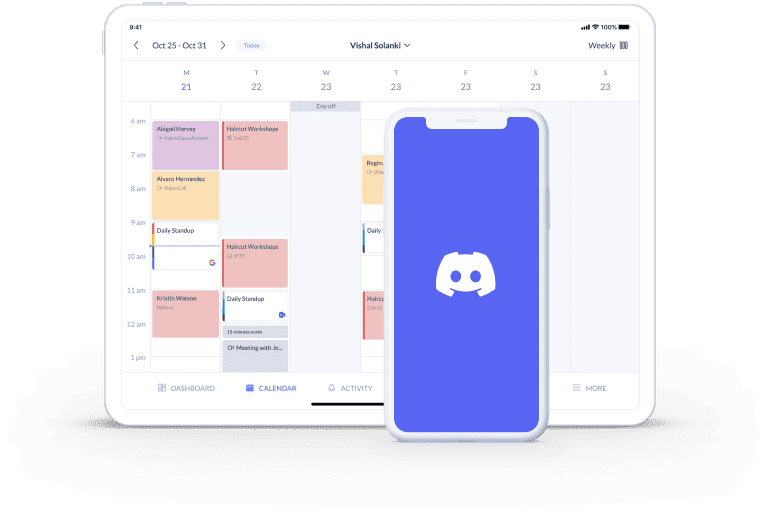 It's automatic

Link your apps and pick the Discord channel to receive booking updates. Date, time, service, and customer – all the details reach the relevant team members.

A heads-up in real-time

Appointment details land in your preferred Discord channel as soon as a booking is confirmed, whether that's through your Setmore calendar or Booking Page.

Effortless delegation

View the appointment details as soon as they pop up and assign the right provider. You can do it all right within Discord, no back-and-forth emails necessary.
Pick a channel, stay in the loop
.
Keep your team informed about new appointments by connecting Setmore with a shared Discord channel. This Zap automatically sends a channel message when an appointment is scheduled using your Booking Page or calendar. Confirm a provider right within Discord and ensure nobody's schedule is overloaded.
How to connect Setmore and Discord
.
Open this template, click 'Connect Discord + Setmore Appointments' and log into Zapier.
Connect your Setmore account and select 'Send Channel Message' as the action event. Click 'Continue'.
Log into your Discord account in Zapier and select a channel to receive new appointments as tasks.
Specify the details to send from Setmore in task descriptions, e.g. appointment time and service provider.
Test the Zap and click 'Turn on Zap' to complete.
Further customize your Zap with extras like text to speech, which enables you to hear messages aloud in the channel. For more details, visit the Setmore and Discord page at Zapier.
We're all about effortless automation
.
Make the magic happen, we'll make sure it happens on time.
Sign me up