Export Contacts to Zoho CRM When You Book Customer Appointments
Secure more leads, expand market outreach, and manage client data easily. Zoho CRM provides accurate forecast metrics and empowers decision-making that's better informed when it comes to sales.
How it works with Setmore
Setmore automatically exports customer contacts to Zoho CRM when a new appointment is booked. This integration helps you keep your Zoho CRM client list fresh with the latest contact details from new Setmore customers.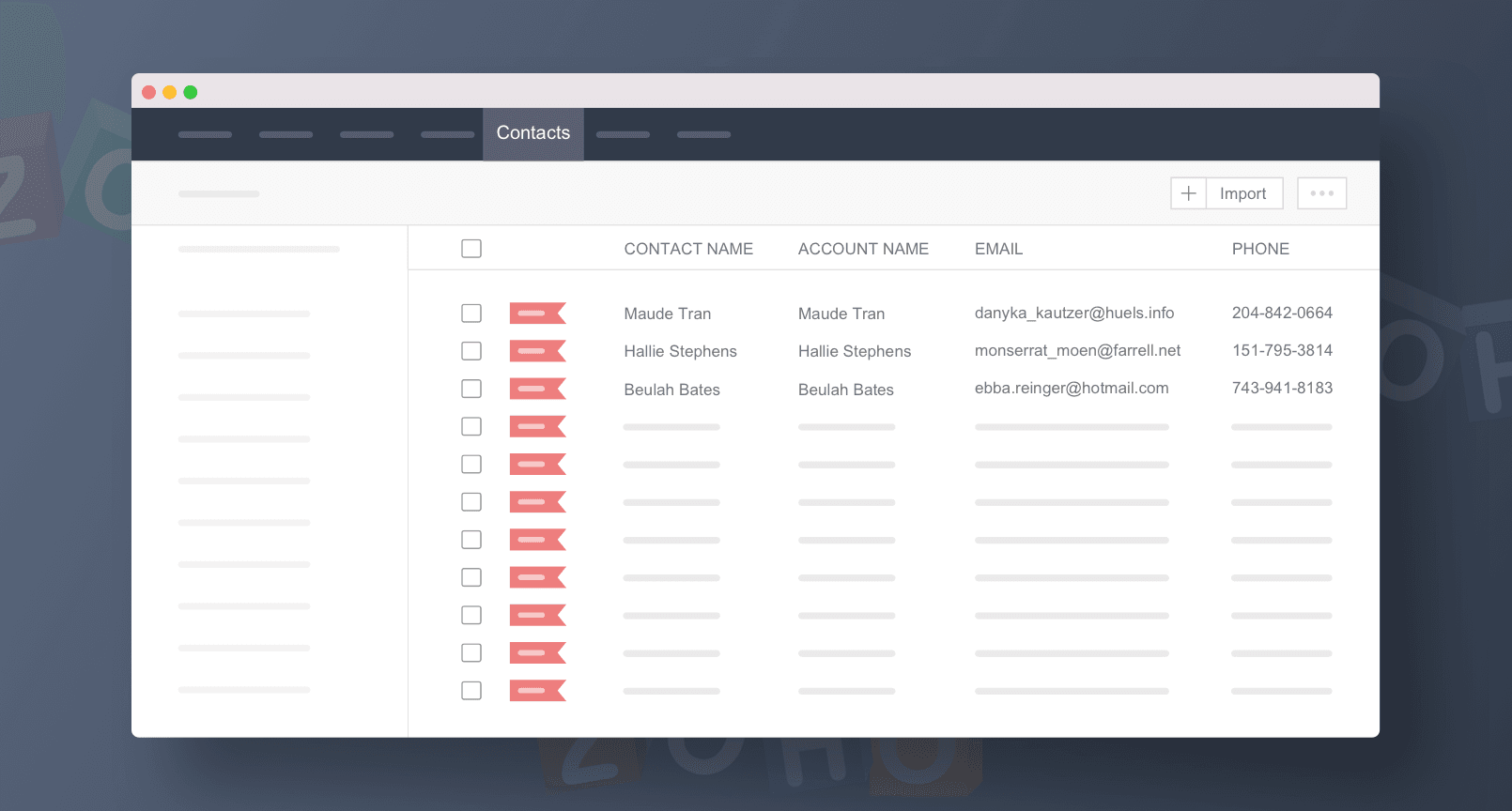 Automatically Export New Contacts
This integration eliminates the manual work of copying customer information from Setmore to Zoho CRM individually. By automating this process, you ensure a seamless transition of all new customer contacts into your CRM platform as they book their first appointment. This means your newest customers automatically get your latest promotional offers and instant exposure to your marketing campaigns in Zoho CRM. Your analytics will also be running with the most up-to-date customer data, helping you improve sales and conversions.
Drive Your Campaign with the Right Leads
There's a few different ways that you can add new contacts to your Setmore account. The first and most obvious is by creating a new customer profile manually, or by booking a customer's first appointment on your admin calendar. But customers can also add themselves to your Setmore account when they book an appointment through your online Booking Page, which is where this integration really shines. Customers book online, they get added to Setmore, then their contact information gets transferred to Zoho CRM, all without you having to do anything.
Did we mention that customers can also book an appointment from your Facebook page? Activate the Setmore-Facebook integration and start taking appointments from Facebook >
Enrich Your Contact List with a Few Simple Steps
In a few simple steps, you can activate the Setmore-Zoho CRM integration and hit the ground running. Once active, all new contacts created in Setmore will be automatically pushed to Zoho CRM.
Step 1: In Setmore, navigate to Apps & Integrations, then scroll down and click the Zoho CRM integration card. Click the "Activate" button on the left side of the pop-up window.
Step 2: Enter your Zoho CRM auth token. Select the target account and the target list where Setmore contacts will be imported to.
Step 3: Map the contact fields of both apps and test the target. Successful completion of the target will activate the integration.
Frequently Asked Questions
Does the integration automatically export my existing customer contacts?
No, currently the integration will only push new customer contacts that are created post-activation. It will not export existing Setmore customer contacts that were created before activating the integration to Zoho CRM.
Will edits made to contacts in Setmore reflect in the contacts pushed to Zoho CRM?
No, changes made to a customer contact in Setmore will not be mirrored to the corresponding contact that was exported to your Zoho CRM account. Currently, any updates to a customer profile should be manually applied to the contact stored in your Zoho CRM account.
How can I export customer contacts created before activating the integration?
You can manually download existing customers from Setmore as a .csv file, and upload the csv file into your Zoho CRM account. To download your customer contacts from Setmore, go to the Customer tab and click the menu (three horizontal bars) icon that's next to the search field. Choose "Export customers" from the drop-down menu. You will receive an email shortly with the .csv file attached.