Slack appointment scheduling integration
.
Let Setmore send you automatic appointment notifications in a dedicated Slack channel.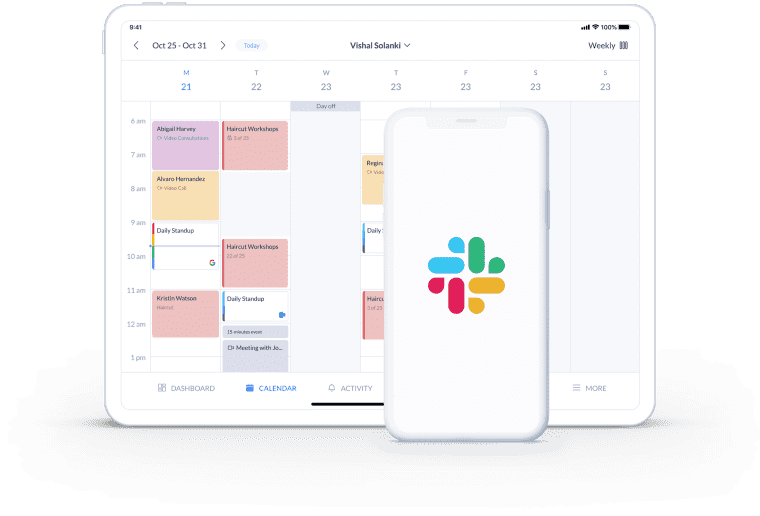 Receive real-time booking updates

When appointments are scheduled or changed via your Booking Page, an automatic notification appears in your chosen Slack channel.

Create a transparent work culture

Connect your Booking Page to a shared team Slack channel and make it easy to assign appointments to different staff members.

Beyond the where-and-when

Customer information is pulled into Slack along with appointment details. Ensure new and loyal clients meet with the right specialist.
Your all-in-one Slack calendar integration
.
Slack is an instant messaging app that lets you chat, video call, share information and collaborate remotely with a team.
Link your Setmore calendar with Slack to receive automatic appointment updates to a designated Slack channel. No need to check their inboxes - your team members stay in the loop with a real-time feed.
Setting up your Slack scheduling integration
.
Log into Setmore and head to Apps & Integrations > Slack.
Click 'Activate' and enter your Slack domain name in the pop-up.
Provide your Slack login details to grant Setmore access and click 'Sign In'.
Choose the channel that'll receive calendar updates and click 'Authorize' to complete.
For full instructions, check out our Setmore calendar-Slack integration guide
Automatic alerts sent straight to Slack
.
Link your Setmore calendar with your chosen Slack channel to receive live booking updates. When appointments are added or rescheduled through your Booking Page, you get an instant heads-up.
Create a team Slack channel that all appointment updates fire into. Delegate new bookings to the right staff members there and then, without needing to switch between apps.
Assigning appointments made easy
.
For teams that share one Booking Page, the Setmore-Slack meeting scheduler streamlines staff management.
Avoid calendar conflicts and sync your schedule across desktop, tablet and mobile.
Take charge of your working hours
.
Are there times you or your team aren't available for appointments? Block out time in your calendar using 'Events'. Your customers can only reserve free slots on your Booking Page, cutting down on last-minute rescheduling.
Avoid calendar conflicts and sync your schedule across desktop, tablet and mobile.
A free, flexible calendar for Slack and so much more
.
FAQs
.
Yes! The Slack calendar integration is available to all Setmore Free, Pro and Team customers. Create your account to get started.

Simply add team members to the channel you've chosen to receive appointment notifications from Setmore. The Slack-shared calendar integration sends you real-time updates to streamline appointment delegation.

One staff calendar per Setmore account can push appointment notifications to Slack. However, if you add multiple team members to your selected channel, they all have access to the most recent booking updates.
For more information, check out our Support Center
Make the magic happen, we'll make sure it happens on time.
Sign me up