Get Customer Appointment Alerts in Slack
The go-to solution for peer-to-peer work messaging programs, Slack helps your team members stay in touch with each other. Information gets shared without interrupting the flow of productivity from constant email check-ins.
How it works with Setmore
Once activated, this integration will ping a designated Slack channel with Setmore notifications, letting your teams know when new appointments are created, rescheduled, or cancelled.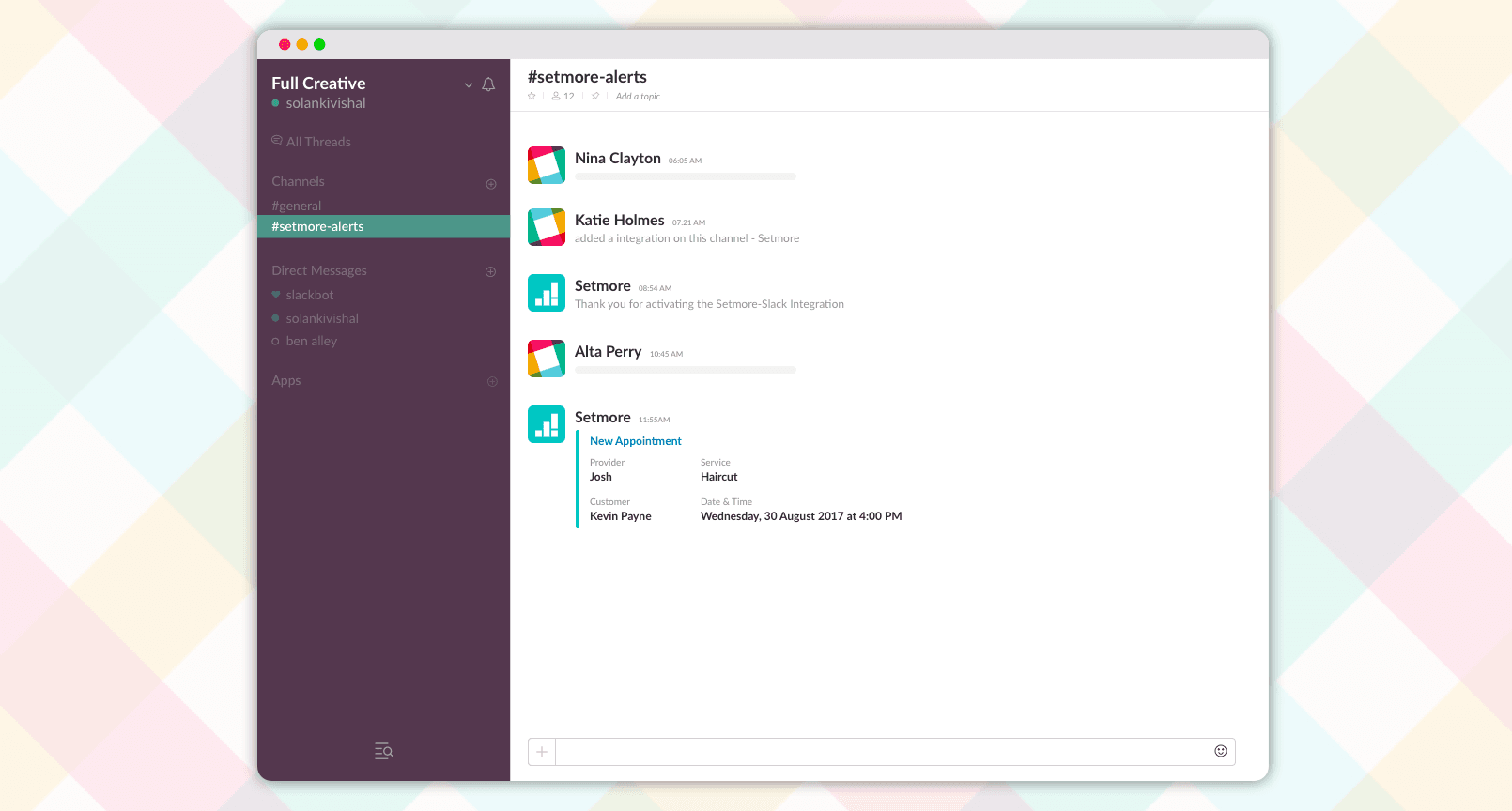 Visit Slack.com
Team Chat Meets Online Customer Scheduling
Add online booking to your internal communications tools with the Setmore-Slack integration. Do you need a way to update your entire team about new or cancelled appointments, conference calls, classes, meetings, or events? Once activated, the integration creates a Setmore "bot" in your Slack domain that posts updates and notifications to the channel of your choice. This helps keep everyone up-to-date with the latest happenings in your online appointment calendar.
Setting up the integration takes only a few seconds. Don't have Setmore? Sign up for a free accountand link it to your Slack account today!
Better Coordination Between Teams and Appointments
Slack is a super flexible tool, used by businesses, community organizers, nonprofits and others. You'll get the most use out of this integration if you meet one or more of the following:
You use Slack to coordinate with your team about new projects or clients, especially if your team includes remote workers.
You use Slack to coordinate volunteers or community members and want an easy way to delegate assignments or appointments to them.
You want to maintain control of your online appointment book while still giving your team a way to stay updated about new or cancelled appointments or classes.
Connect Setmore to Slack in 3 Easy Steps
It only takes a few minutes to connect your Setmore account to your Slack domain and start receiving updates:
Step 1: In Setmore, go to Apps & Integrations and click on the Slack card.
Step 2: Click the Activate button and then follow the prompt. You'll need to authorize access for Setmore to post updates in your Slack domain.
Step 3: Specify which channel you want to push Setmore updates. The integration is now activated.