Automatically Export New Customers to HubSpot
HubSpot is a household name in online marketing and sales CRM tools. Manage your customer contacts and measure the performance of your blogs, landing pages, and drip campaigns.
How it works with Setmore
When you schedule appointments through Setmore, your customer's contact info will be automatically exported to your HubSpot marketing campaigns. This saves you the trouble of having to manually transfer data, and ensures your campaigns are always up-to-date.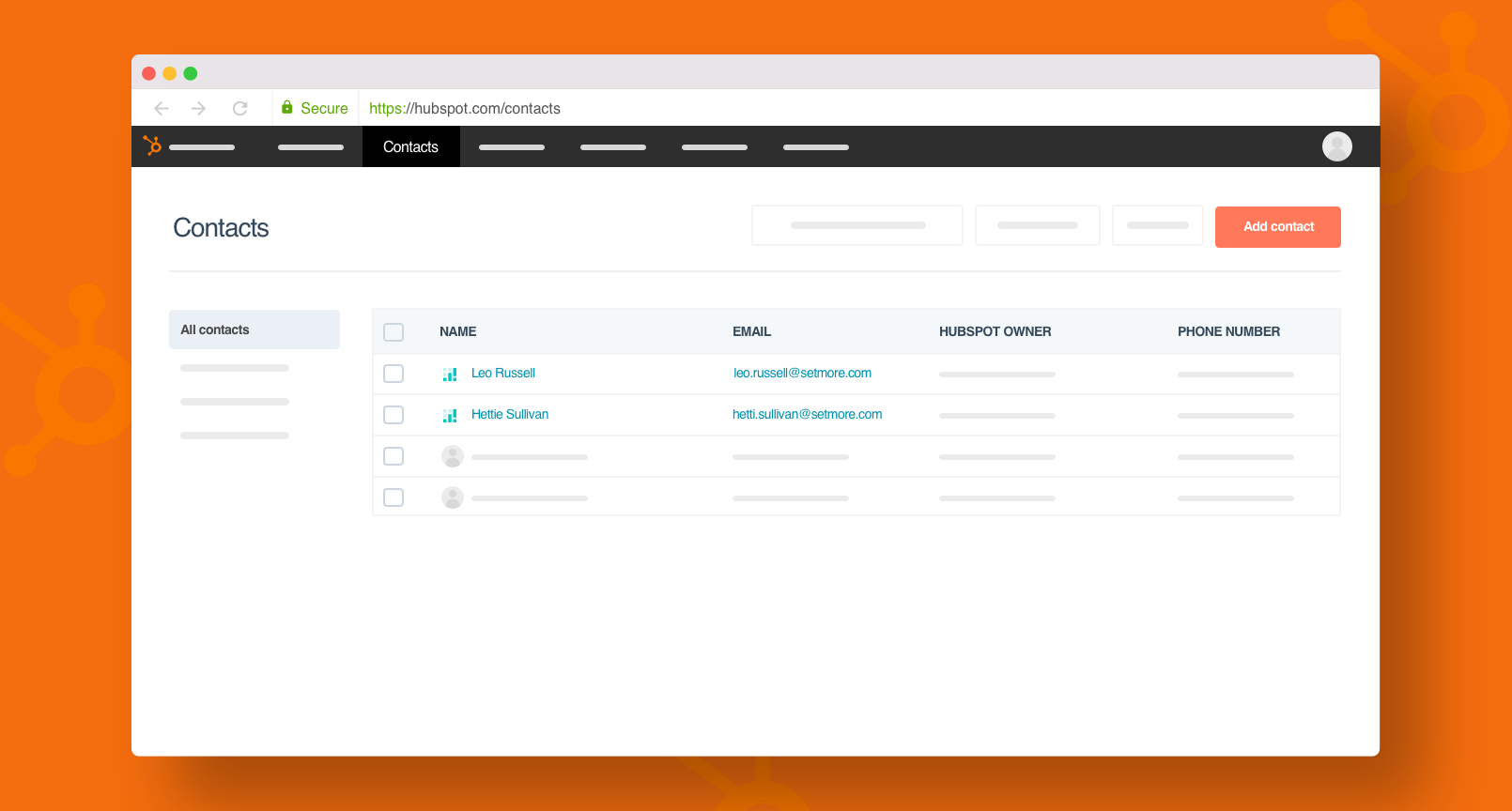 Visit HubSpot.com
New Appointments Power Your Online Marketing Tools
When customers schedule their first appointment with you through your Setmore Booking Page, their profile data will be automatically migrated to your HubSpot account. This means your marketing campaigns will always be up-to-date with the newest customer information, without any additional action on your part. Even if you add the customer profile yourself through your Setmore dashboard, their info will be seamlessly copied into your HubSpot account.
To get started, sign up for a free Setmore account. You'll be booking your first appointment in minutes!
Less Manual Work, Better Marketing Campaigns
This integration does more than just save you time by cutting out the tedious work of exporting/importing spreadsheets of your customer data. It also empowers you to immediately distribute your marketing messages and promotional offers to your newest customers. By getting the word out sooner, you'll win over potential customers and build a solid base of regulars with higher lifetime value for your business.
Automatically Migrate Customer Data in a Few Steps
It only takes a few steps to activate the Setmore-HubSpot integration, and it takes effect immediately for any new customer profiles added to your Setmore account.
Step 1: In Setmore, go to Apps & Integrations and click on HubSpot.
Step 2: Click the Activate button. You'll be prompted to sign in with your HubSpot account credentials.
Step 3: Grant access to Setmore to share data with your HubSpot account.
Frequently Asked Questions
Will Setmore retroactively export my customer profiles to HubSpot, for profiles that existed before I turned the integration on?
Unfortunately no, the sync only works for new customers profiles that are added after the integration is activated. You may, however, export a .csv spreadsheet of your older customer profiles and manually import that into HubSpot.
Will customer profiles in HubSpot be migrated into Setmore with this integration?
This is a one-way integration that migrates data from Setmore to HubSpot only. If you need the ability to transfer customer profiles from HubSpot into Setmore, you may do this by exporting your HubSpot customer data to a spreadsheet, and then by uploading it into Setmore.
Can I activate the HubSpot integration if I subscribe to Setmore's Premium plan?
Yes, the HubSpot integration can be activated in your Premium account. The Setmore HubSpot integration works in Setmore's free account and Premium account. To find out more about Setmore Premium, click here >