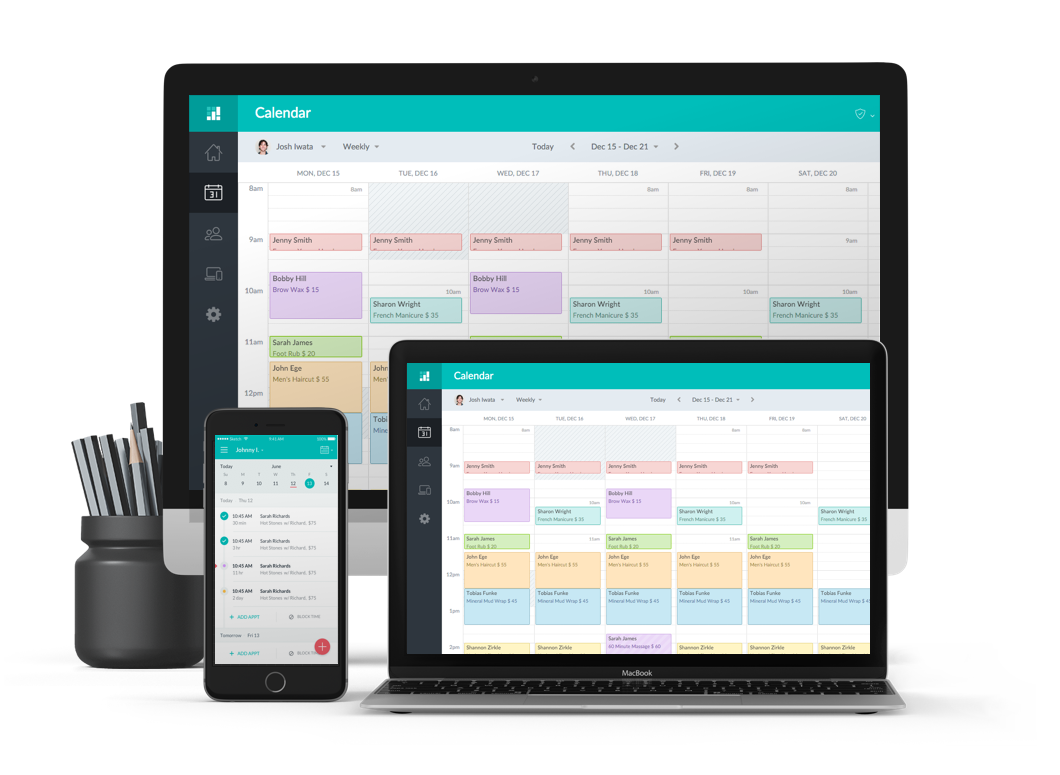 One of the best escapes from the stress filled world is a good long massage and many seem to have embraced the idea of good long and soothing massage. Being a massage therapist is not easy by any means and having a flourishing massage parlor is a back breaking and hard working job. If you are a massage therapist, you know that maintaining and retaining your customer base isn´t the only thing required for the success of your business. There are other details which need to be taken care of. One of the biggest challenges is to take customer appointments, manage schedules and Allot employees or staff members to customers as and when appointments are booked. Bigger challenge is to maintain and manage your scheduling system so that it doesn't come in between your business, employees or customers.
Setmore, is an online appointment scheduling software which lets you manage customer appointments online. Our mission statement is to minimize the time you spend in scheduling and managing appointments.
Setmore's booking flow is implemented without much frills and fuss. Such that you get :
A personalized online booking page where your customers can book their own appointments with your business.
An online calendar, where you can view all the appointments and schedules.
Ability to add employees and staff members to your business.
Automatic notifications that inform customers about upcoming appointments.
Quick and easy management of services and deliverables that you provide.
No downloads, no installation, Setmore is completely web based and requires no training.
Online booking
We are at the heart of an appointment scheduling software and quite proud of the fact. Booking an appointment with your business should be an activity your customers enjoy rather than finding it long and tedious. We make sure there are multiple ways of booking an appointment (booking page, Facebook application, Wordpress Plugin) and the appointment process is not long and boring.
While designing Setmore, we wanted to make sure the final product reflects the image of our company and beliefs. We understand that you would want something along the same lines for your business too and that's why personalizing your booking page to reflect your business is possible with Setmore. When you are proud of your business and the hard work you have put into something, you would want to show it off, not hide it behind someone else´s name.
Management
When Setmore was initially designed, we wanted to provide a product which not only Multitasks but also performs every activity it undertakes to the best possible solution. Instead of piling up too many activities on our platter, we took a few more tasks apart from appointment booking and added it to our product. The result, you get to use a product which is efficient, multi tasks, but doesn´t give up perfection for attaining quantity.
Apart from appointment booking, we also make sure all your customer data and the special notes about each customer that your staff adds is automatically stored in the cloud. You can also take a backup of these data on the number of times for your peace of mind and to access it without internet connectivity.
With Setmore´s selective display of info option, you can also take informed decisions. By allowing you to track and see how each of your service and staff is performing, you get to keep a fine pulse on what is going on in your business.
Appointment Reminders and notifications
One of the features which we are proud of and consider completely necessary is the reminder feature. Setmore sends out reminders to your customers about the appointment they have with your business. This helps reducing no-shows and also helps in making your customers feel special. Even small gestures such as these count and help you in retaining your customers to make them regulars.
You are dedicated in reducing people´s stress and tension through massages, Setmore is dedicated to reducing your anxiety and stress over booking and managing appointments. If you are still not convinced that you should automate your booking process, just give our product a try, you will never go back to paper and pen appointments.