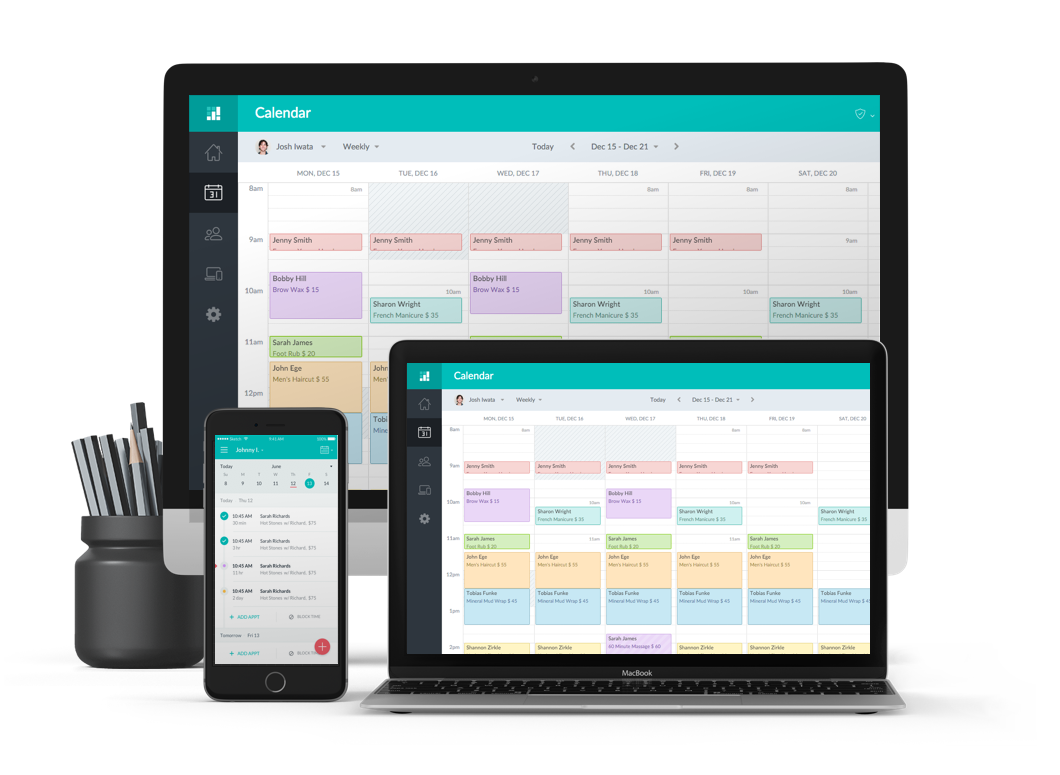 Once upon a time, Google made an impression among the small business owners with the launch of its online calendar, Google Calendar. This free online calendar application was a bliss that helped many entrepreneurs to book and manage schedules online. But, as time progressed and so did our online scheduling needs, the time has finally come to bid farewell to the Google Calendar and say hello to Setmore, an intuitive and dynamic online appointment scheduler that sets you free from your appointment scheduling complications.
Without a doubt, Google Calendar makes life easier for the businesses and individuals who wish to manage their appointments all by themselves. However, it lacks the basic functionality of enabling others to secure appointments on your Google Calendar. Being a small business owner, with a number of other important tasks in hand, you wouldn´t want to remain occupied over the phone to take appointments from your callers. Take advantage of our free booking page and let your customers book appointments with you, that too in a matter of minute
Capitalize on the following benefits while using Setmore:

Add up to 4 staff members, unlimited services and appointment.
Avail a free and customizable booking page, share it with your customers and let them book appointments with you online.
Setup automated text and SMS reminders for your clients and staff members.
Expand your social sphere by sharing the booking page URL on your Facebook, Twitter and Google+ pages.
Engage in fun scheduling by color coding the appointments to your choice.
Embed the booking page to your WordPress, Joomla, Drupal, Wix or Weebly powered websites and take appointments, right from your website.
Send out auto-affixed appointment cancellation and rescheduling links in the appointment confirmation emails to your customers and save them the trouble of calling you back and forth to modify the appointments.
Download our free Android and iOS apps and remain in control of your appointments, customers and business, always.
Resource Management
Usually in a startup venture or a budding business, the employees are required to multi task quite frequently. Gathering the appointments and active response to the confirmed appointments are crucial. Save valuable time by eliminating the need for a receptionist who waits for the customers to call in to book an appointment.
With Setmore, bask in the glory of an online scheduling system that delivers more on scheduling by relying less on cold calling. Enable your customers to book appointments with your business even after your business is done for the day. Keep your online scheduler live and on the go when you are busy running your business.
Go Automated
Scheduling appointments is not a walk in the park. It involves planning and following every stage of the process. We´ve realised that your business relies heavily on a planned schedule and we know the manual approach is hectic. By switching to Setmore, you get a breather because Setmore manages your schedule by following it up with automated text messages and reminders after every appointment is booked or modified.
With Setmore, send automated alerts to remind customers of their upcoming appointments. Leave no booked appointments and allocated resources go futile with this feature. When the customer opts for rescheduling or a cancellation, get an instantaneous alert of the action so that you get to elude the empty time slot from becoming unproductive.
Scheduling, Uninterrupted
Setmore helps you take scheduling to the next level with a built-in checkout system. Generate invoices for each appointment and save the payment history for bookkeeping. Accept online payments from your customers through PayPal or Stripe payments from the calendar and the online booking page, all within your Setmore account. The cash register system in Setmore also helps you record transactions when customers pay upfront using cash.
Graphs and Projections
When it comes to accelerating business growth and productivity, scheduling matters a lot. The value of a missed opportunity or a wasted session is irrevocable and thus, with Setmore, access your appointment scheduler at anytime, stay updated and never miss an opportunity.
You can also view and manage schedules of every staff member under a single calendar or assign individual logins and help them manage their own appointment schedules. If you are worried about all the appointments and contacts you´ve stored while working with Google Calendar, let´s not start from scratch because Setmore lets you import them into your new calendar in a few clicks.
So, what is holding you back? Thank Google , make it your Ex and move on to Setmore.