Truth: 55% of small businesses don't have a website according to a 2013 study.
Business owners without a website didn't think they wanted one, didn't think they needed one, or just didn't know how to create one. Taking your business online will bring more customers to your door. It's simply a matter of visibility: most people looking for goods or services start their journey with a Google search. Without a website, your business is practically invisible.
Dare: I dare you to build a website, right here and right now. At Setmore HQ, we really love website builders Wix and Weebly for this purpose – both are free with options to upgrade, and the best part is you can do this with zero coding experience. I'll show you a quick how-to using Weebly, but feel free to explore alternatives on your own.
Step 1:
Go to www.weebly.com.
Click "Try it free," fill out the form and click Sign Up.
Step 2:
Now you'll be asked to choose a theme. Pick the first one that pops out at you – and don't worry, you can change it later. For the sake of example, we're gonna pick this one with a sweet color-overlay background.
Step 2 1/2:
You'll be prompted to choose a domain.
For now, just use your business name and click "Continue".
Step 3:
Weebly immediately drops you into the editor. First things first – swap out that background photo for a more relevant one. We're also going to edit the text so that it's more relevant to our business cause.
Step 4:
Smack that "Publish" button in the top right. Run through the rigmarole of menus until it says "Site Published." Now click that fancy new URL and see what you've just brought into the world.
Step 5 (extra credit):
If you want to get the most out of your website, I'd strongly encourage you to embed your booking page by using the Embed Code option. You can get the HTML code for your booking page from inside your Setmore account, under Profile > Integrate > Website.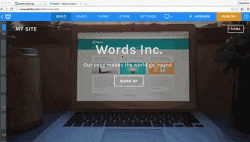 Congratulations! Not only did you just launch your first website in five minutes or less, but you also now have a competitive edge over 55% of other businesses. Your homework over the next few weeks is to add more pages and fill out the content. It'd sure help if you have some visually stimulating photography on hand to go with everything you write…
Truth: Web content with images gets 94% more views than content without.
It makes sense when you consider that we as humans process images faster than we process words. Showing off your shop through pictures allows your customers to see the people at the heart of your business. It also gives them an opportunity to scope out your storefront before setting foot inside, a virtual invitation into your physical space. All that hard work you put into the decor can pay off online, too.
Dare: I dare you to take pictures. Lots of pictures. Then put them on your website. If you own a smartphone then you have no excuses because you're toting a megapixel camera in your pocket or purse. Use it! Start snapping pics of the shop, your staff, consenting customers, and don't worry about image quality or lighting. Pepper your website and social media feeds with original photos and you'll see your numbers go up.
Step 1:
Take out that smartphone that you use for almost everything except talking, and open up the camera app.
Step 2:
Start snapping away! Make all your co-workers distraught over their haggard casual-Friday appearance. Don't forget to use the "flip" icon in the top right to change camera orientation to "selfie mode" and show off your winningest smile.
Step 3 (extra credit):
Ask your clients for a photo and a quote about the service they received, and post them to your website. Testimonials like these are supremely effective at winning over new customers. Salons, personal trainers, and pet groomers (among others) should also start taking "before" and "after" photos to showcase their skills.
Congratulations! Your web content is now 94% more captivating than words-only web content. It's about time you got over your camera phobia – the world wants to see your face.
Truth: 73% of Americans use social media, or about 3 out of every 4 people.
The reason why social media is such a gem is because it empowers users to share content at the click of a button. So anything you put out into the world via Facebook or Twitter has a chance to get shared, liked, retweeted, and thereby distributed into other users' feeds. Even without regular updates, social media allows your business to interact with customers in an entirely different arena.
Dare: Chances are you already have a Facebook page, so let's mix things up. I dare you to start using Twitter. This is the platform of choice for instantaneous communication with customers. Have you ever taken a phone call asking if you were open on a particular holiday? Ever had to close shop for a day due to power outage or a leaky roof? Twitter lets you spread the word so customers know what's up.
Step 1:
Go to https://twitter.com/ and click Sign Up.
Plug in your information as required and click Sign Up again.
Step 2:
Twitter walks you through a six-step initiation process, but we're going to streamline it a bit. You can skip adding your phone number, but definitely choose a username (your business name, if possible). Go ahead and follow the first 20 accounts it gives you – you can always un-follow them later. Then add a picture, which should be your business' logo, and skip through finding people you know. Up and running? Good.
Step 3:
Click the "Tweet" button in the upper right corner.
Type in the following: @SetMore Thanks for helping me set up #myfirstTweet
Click "Tweet" in the pop-up window to publish it!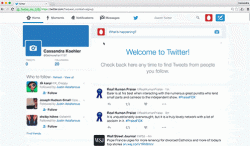 Step 4 (extra credit):
Put your new Twitter feed to work by advertising last-minute openings and offer up a direct link to your booking page. You can find the link to your booking page in your Setmore account under Profile > Configure > Company Details.
Congratulations! You now have another way to send your promotions and updates to 73% of customers.
Can You Handle the Truth?
The whole purpose of this blog post is to get you to realize just how simple, easy, and effortless it is to establish an online presence these days. But just out of curiosity, let's also take a quick tally of how much these things cost to implement.
Setting up a Wix or Weebly site — Free
Taking/posting pictures online — Say it with me… free!
Setting up a Twitter account — By now you should get the point.
If fear of the unknown was holding you back, you should now be ready to tackle these stratagems and start putting them to work for your business or organization.
Thank you!
– The Setmore Team
Did taking your business online help or hinder your success? Tell us why in the comments below!
by Cassandra @ Setmore
Writer, editor and scheduling product expert at Setmore Appointments.