This Martin Luther King Day (Monday January 16th), we'll be posting a major update to Setmore's user interface in the browser app. The biggest change will be the top navigation menu, which will change into a sleeker and simpler side navigation menu. Your calendar, your appointments, your staff and client listings will all remain the same. We'll explore all the changes below so there won't be any surprises.
Mark your calendars: the new interface launches January 16th.
The new UI in all its splendor
New icon-based side navigation
The top menu items: Dashboard, Calendar, Customers, Profile, and Settings – all of these will remain the same except for Profile, which becomes the new "Apps & Integrations" section.
Section titles appear on mouseover
Apps & Integrations
The new Apps & Integrations section replaces the old Profile > Integrate section and provides a more organized view of all the 3rd-party plugins that Setmore has to offer. The updated layout also makes it easier to access your Booking Page or download the mobile app.
Old Integrations page vs new integrations page
We've taken all the information currently in this section and added more instructions, tutorials, and links to relevant support articles. Now you'll be able to deploy the integrations of your choice with all the necessary data at your fingertips. As we add new plugins, you'll be able to access them instantly from this page.
Everything else, right where you left it
The sub-menu structure will remain the same. So for example, everything under the Settings > Account tab will be the same from old interface to new interface.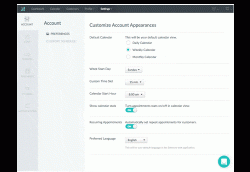 The new vs. old menu structure
Paving the way for future growth
So there you have it––by making everything a lot more accessible and intuitive, the new Setmore interface is a precursor to new feature releases down the road. I can't spill the beans yet on what to expect in 2017, but stay tuned for some exciting announcements coming to a blog near you.
Thanks!
-The Setmore Team
by Cassandra @ Setmore
Writer, editor and scheduling product expert at Setmore Appointments.